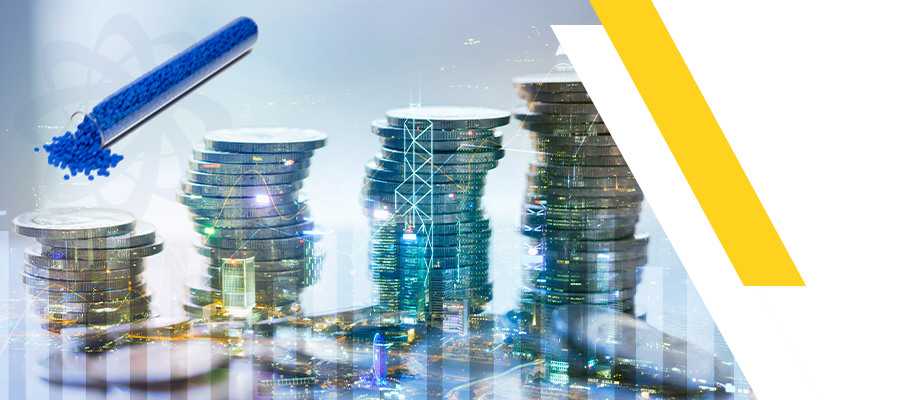 Sabic collaborates with Röhm on a new merger called Polyvantis, BASF launches a new, readily biodegradable polymer & materials prices' trend.
The year comes to an end.

Polymer prices

are not

changing

sharply

, and companies are getting ready to innovate and expan

d.

Le

t's

discover the top 5 news stories that happened this week:
1-

Sabic collaborates with Rohm on a new merger called

Polyvantis

.
Röhm's Acrylic Products business unit collaborated with SABIC's Functional Forms division. This merger resulted in Polyvantis, which was formed because of the combination of building and construction, transportation and aviation, electrical and electronics, automotive, and home and garden.
This new company will provide extruded goods in the shapes of film, sheet, pipe, and rod. It will have more than 15 sites and 1500 employees.
"Polyvantis is a name that reflects our goal to become a top multi-material supplier of film and sheet products with a significant market share" states Michael Pack, CEO of Röhm.
It is worth mentioning that SABIC will continue to handle the polycarbonate Lexan resin industry, and Röhm will continue to handle the Plexiglas/Acrylate molding compounds business.
2-

BASF launches a new readily biodegradable polymer.
BASF has launched a new grade called "BVERDE GP 790 L." This modified polysaccharide provides the same performance as acrylate chemistry. It is also considered a sustainable material.
It contains 79% biobased content and has better compatibility as a clear product.
This unique material will be suitable for laundry detergent applications. This will meet the increasing need for sustainable products without compromising quality.
In addition to growing its line of sustainable products, BASF is developing additional components that can match the high ecological profile and anti-redeposition performance of acrylate polymers.
Compared to acrylic-based chemistry, BVERDE GP 790 L is a polymer that works better with typical detergent formulas to provide a clear, uniform product.
3- PP prices drifted this week globally at the end of 2023.
PP resin prices dropped another cent last week during the holiday "Thanksgiving" week.
Purchasers looked at deals that had lower prices. Overall PP levels decreased further, with lower feedstock costs driving the decline.
Regarding PP copolymers, it has been solid because of the scarce supply. Homopolymers have been plentiful, especially off-grade resins.
In China, PP prices were assessed flat at the average of $875/tonne CFR CMP.
4- PE contracts were assessed flat this week.

Larger customers have been demanding a drop in the PE price, and the market has lost its upward impetus despite the average $0.03/lb. price increase nominated for November.
Predictions confirm that PE contracts will, at most, roll flat and that a $0.03/lb peel-off would not be shocking.
As is usual for the fourth quarter, resellers and processors have generally been lowering their resin positions.
North American companies have a cost advantage over most of their overseas competitors. Direct exports will continue to be strong through the end of the year. Nevertheless, as importers attempt to drive down prices.
5- HDPE prices will remain stable until the end of 2023.
According to current market trends, it is expected that prices for polyethylene (PE) will remain relatively soft for the remainder of 2023.
However, a slight gain in prices is anticipated to be seen in January 2024.
Regarding HDPE film, there are some notable developments. Firstly, a deal has been struck for HDPE film originating from Saudi Arabia, with an agreed-upon price range of $945 per tonne.
---
Resins Pricing Updates
| | |
| --- | --- |
| PET Bottle Grade Asia SE Spot FOB | $20 ⇓ |
| PS HIPS Asia SE Spot CFR | $25 ⇓ |
| PET Bottle Grade Asia SE Spot FOB | $15 ⇑ |
This is the week of polymers news coverage from "GAP Polymers".
Subscribe to our newsletter and stay updated!